Lean Six Sigma Yellow Belt to Green Belt Upgrade
| | |
| --- | --- |
| Course Code: | TGLSAU005P |
| Certification: | ONLINE live courses are now available. The course fee includes Thornley Group certification. Candidates will be eligible to take the optional IASSC Green Belt certification exam once they have attended either our online or in-person course. |
| Course duration: | 3 days of classroom training; or 5 x 2.5 hours of online course, plus 12 hours of personal study. |
| Overview: | This course covers the difference between the Yellow Belt and Green Belt certifications. Candidates must have completed their Yellow Belt training before attending. Thornley Group Green Belt training gives an extensive grounding in Lean Six-Sigma, covering the details of Lean Six Sigma tools and techniques, the benefits to businesses, project setup, DMAIC principles and the associated statistical tools and techniques. The online training option requires an additional 12 hours of study, consisting of lesson reviews, worksheets and quizzes. |
Cost
From $1,030 plus GST
All major credit cards accepted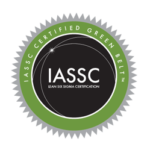 TGLSAU005 lean six sigma yellow to green belt training
Lean and Six Sigma are longstanding improvement methodologies that help businesses deliver on their goals and objectives .By eliminating waste, businesses can increase the value of their product and reduce variation. Applied correctly, Lean Six Sigma helps businesses focus on the customer and deliver benefits to quality, performance and profitability.
Thornley Group Green Belt Upgrade training is carried out by professional trainers who are experienced in delivering both Lean and Six Sigma projects. After the completion of training, candidates will have a detailed understanding of how to apply the tools and techniques and deliver significant benefits to their organisations.
Prior to taking the IASSC Green Belt exam, candidates need to undertake a further 15 hours of study using their course manual. Our online testing allows candidates to study all subject areas carefully, right up to the date of their exam. The Green Belt Upgrade course also includes access to our video training for an additional 16 hours of study beyond the 3-day course.
Attendees must already be certified Yellow Belts.
Lean & Six Sigma training – at your office
Thornley Group's Green Belt Upgrade course is designed to be an effective tool for employees at all levels of an organisation. We work with everyone from senior executives to new employees, delivering everything from awareness programs to specialised training. Our courses provide effective and enjoyable training that is designed to have a measurable impact on your business. Course content can be tailored to suit the needs of your company and match your branding if desired.
Training can be conducted on-site at your office or at one of our approved venues.
Improving organisational performance takes many steps.
The first step is always to make a commitment to doing business differently. Organisations that adopt Lean Six Sigma perform more effectively and efficiently while eliminating their unnecessary waste. This results in significant, measurable cost, product and quality improvements that lead to greater competitiveness and customer satisfaction metrics. 
Contact Thornley Group for more information on our training and consultancy services.
How can we help?
Thornley Group training enables organisations to improve the way they develop and deploy business improvement strategies. Our certifications focus on delivering the tools and skills professionals need to make reliable, sustainable changes that have measurable long-term benefits to an organisation. Training your key staff in business improvement is an excellent step towards improving the performance of your organisations. 
We provide candidates with all the support they need to set effective strategies and deploy them successfully. 
Course Manual
Thornley Group exam fee included
Online practice exam
6 months support for project work (26 hours of email and phone-based support)
Access to our supplementary online Lean training
Online resources and templates
IASSC exam optional
Our Green Belt Upgrade training gives candidates an extensive grounding in Lean Six Sigma. The course covers the tools and techniques of Lean Six Sigma, the benefits to business, how to establish projects, the DMAIC model and all associated statistical tools and techniques. Thornley Group Green Belt Upgrade training is targeted at professionals who spend a significant amount of time in process improvement teams. This could be as a process owner or team member, or someone who is looking to upgrade to a Green Belt and begin taking part in project leadership roles. After training has been completed, you can upgrade to a Black Belt with only 5 days of further training.
Thornley Group trainers use their practical experience in process improvement to deliver training programs and simulation exercises that take candidates through the entire process of applying the tools and techniques they learn.
The Green Belt Upgrade course covers the difference between the Yellow Belt and the Green Belt certifications. Candidates must have completed the IASSC Yellow Belt training prior to attending this course. The 3-day upgrade is a detailed course that teaches advanced Green Belt topics for each of the DMAIC phases.
After completing the course, candidates can sit an IASSC Green Belt exam. Once the exam is passed, attendees will receive a Green Belt certificate. For professional credibility, candidates should participate in a project that delivers cost savings, defect reduction or has some other major customer impact. Thornley Group proves email support for 6 months after the completion of the course to help candidates achieve their project goals.
Candidates must be Yellow Belt trained prior to attending. Attendees who have been trained by other organisations can attend and sit the exam, but we cannot guarantee that outside training is adequate to prepare you for the IASSC Green Belt exam.
Candidates must have basic numeracy skills. (See our separate maths qualifier test on our resources page).
Candidates ideally have the ability to work on a project that will improve their credibility with prospective employers. The project should focus on delivering cost savings, defect reduction or other customer impacts. Thornley Group provides a simulation case study where this is not possible.