Lean Six Sigma Black Belt Upgrade
| | |
| --- | --- |
| Course Code: | TGLS004P |
| Certification: | ONLINE live courses are now available. Thornley Group Black Belt certification is included in the course fee. Candidates may attend either our online course or classroom-based courses. Following completion of training, candidates are eligible to take the optional IASSC Black Belt certification exam online at a time that suits them. |
| Course duration: | 5 classroom days for in-person training; or 8 x 2.5 hours of online classes, plus 20 hours of additional study for online training. |
| Overview: | Our Black Belt upgrade training provides candidates everything they need to lead and implement Lean Six Sigma projects. While the Black Belt course builds on central DMAIC and Lean principles, the primary focus is on the leadership and project management skills that Black Belts require to be effective. Attending our online training sessions requires an additional 20 hours of self-directed study. Study consists of reviewing each video class, completion of worksheets and knowledge retention quizzes. Candidates MUST be Green Belt certified prior to attending Black Belt training. |
Cost
From $1,700 plus GST
All major credit cards accepted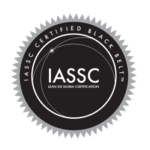 TGLSAU004 six sigma green to black belt training
Lean and Six Sigma methodologies help businesses deliver on their goals and objectives through proven improvement tools. The combination of Lean and Six Sigma eliminates organisational waste, increases the value of products and services, and improves the customer experience. This customer-centric approach provides rapid improvement to performance and profitability.
Black Belt training from Thornley Group is carried out by professional instructors who hold significant experience as both senior management and practitioners of Lean and Six Sigma. Following your training, you will be equipped with detailed knowledge that allows you to apply the teachings of our Black Belt course and deliver projects with greater structure and benefits.
Prior to taking the IASSC exam, there is an additional 40 hours of study through your course manual and our online testing. You will also receive access to our online video training that provides 16 hours of study after completing the course.
Course Manual
Thornley Group certification exam included
Online practice exam
6 months support for project work (26 hours of email and phone-based support)
Access to our supplementary online Lean training
Online resources and templates
IASSC exam optional
Candidates MUST hold a Green Belt certification prior to attending.
Thornley Group's Black Belt training provides all the tools and information required for Lean Six Sigma project implementation and leadership. While the course builds on the DMAIC and Lean principles that are central to process improvement, the Black Belt course focuses on team leadership and project management skills, as well as training with advanced statistical and data management tools.
Our Black Belt certifications are aimed at people who lead business improvement projects or who are responsible for managing improvement teams. 
Using simulation exercises and their own practical experience of our programmes, Thornley Group trainers take candidates through the processes they will need to apply the tools and techniques included in the course.
Examinations
Candidates who complete the Black Belt course are eligible to take the IASSC exam. For professional credibility, we recommend that candidates participate in projects that deliver significant cost savings, defect reduction or have other major impacts on customer experience. After training, Thornley Group provides 6 months of email support to help candidates coordinate and achieve their projects.
Content Topics
Examinations
Candidates must be Green Belt trained prior to attending a Black Belt course and we will need to verify their training. If you have received Lean Six Sigma training from another organisation, you are welcome to attend the course and take the exam. Due to the inadequate course material seen in the content of some organisations, we cannot guarantee your prior training is sufficient to pass the Black Belt Exam.

Candidates must have a working knowledge of algebra and have experience analysing numerical data, such as through Green Belt projects.

The ideal Black Belt candidate should have the authority to work on an improvement project with their organisation to improve credibility with prospective employers. The project should be cost-saving, defect reduction or have other customer impacts. Where this is not possible, Thornley Group provides a simulation case study.